China Printer Offer Notebook Printing Services
Item No:
11-6806134
Size:
custom
MOQ:
1000pcs
Product features:
any color, any binding
Category:
Note book printing
We are a direct notebook printing factory from china. Custom soft cover notebook,hard cover notebook, spiral bound notebook, perfect bound notebook, paper notepad etc. with good quality and competitive prices.Reliable quality and lead time!

Custom notebook printing quotation we need: size, paper stock for cover and interior, finishing, colors, pages, binding way, any other special finishing is required, quantities
Paper stock: soft cover suggest 250g~300g art paper, hard cover normally use 1.5~2mm paper board with 157g art paper. For interior, magazines and catalogues will suggest 105g~157g art paper (glossy or matt), text book, novel, notebook, instruction book normally will use 80g offset paper. If you have other requirements for this, welcome to let us know, we adjust accordingly.
size: Our A4 standard size is 285x210, not the same as international standard of 210x297mm. If you don't have strict requirements on size, please consider 285x210mm, because it can save a lot of money.
A6---140x105mm A5---210x140mm A4---285X210mm A3---420x285mm 280x280mm 125x90mm 185x125mm 260x185mm 250x250mm 380x260mm
Color: full color for cover, interior will be full color for magazines, catalogues etc., 1c/1c is widely used for text book, novel, notebook etc.. Normally we will use CMYK printing, if you need Pantone color printing, please let us know the pantone color code.
pages: The book total pages need to be multiple of 4, e.g. the book total pages can be 20, 24, 28, 32, 36 etc., but not be 22, 26, 30, 34, 38 etc., kindly pay attention to this while you making your design, otherwise the extra 2 pages will cost much more for every procedure.
Finishing: glossy/matt lamination, spot UV, hot gold/silver stamping, embossed, etc. If you don't mention any finishing, we will do glossy or matt lamination only.
Binding: saddle stitch binding, perfect binding, sewing binding, spiral binding, case binding and so on. Most of the books with less than 48 pages are using saddle stitch binding. More than 48 pages, normally will suggest perfect bound. If you want to let books lie flat, please consider spiral binding; if you want the books can last for long, please make it hard cover.
Quantity: Small quantity is acceptable, but suggest to order 1000pcs/design, because the total price gap is not big compare with quantity lower than 1000pcs
Packing: big plastic bag first, then standard carton box.
If you have interests for our paper notebook printing service, welcome to mail your inquiry to: quote@huayinprinting.com

Zhongshan Huayin printing & packaging Co., Ltd is a branch of China Huayin Group Co. Ltd which is specialized in manufacturing paper printing items, like books printing, catalogues printing, magazines printing, notebooks printing, paper bags, paper boxes, stickers & labels, envelopes, etc.
We supply high quality paper printing items to our customer with very reasonable price. Target to build long term business relationship, we 100% guarantee our quality and always care what you need! Welcome to let us know if you have any interests about our products and services.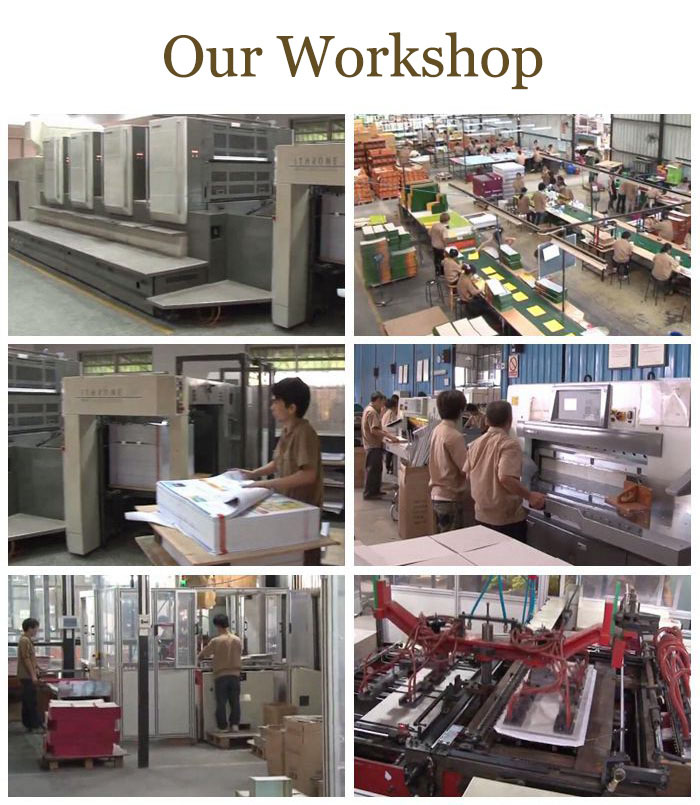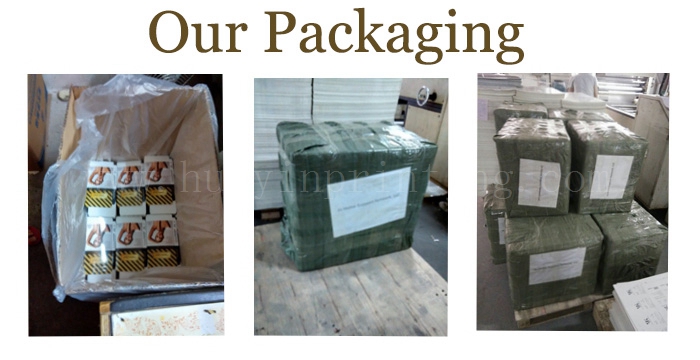 Disclaimer: The pictures relevant to this product have been provided for reference only. We do not have any intellectual property rights over the trademark(s) displayed, and are not selling any products containing this/these marks.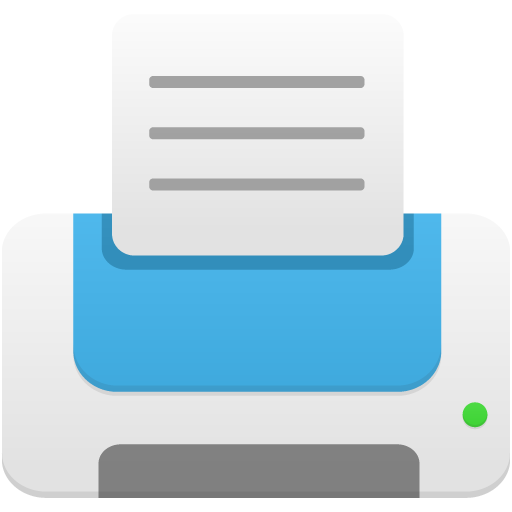 Print the page